Our Priorities: Humanitarian
Providing lifesaving care in emergencies
Our Humanitarian Programme provides a distinct model for sexual and reproductive health and rights in crises, connecting key elements of humanitarian action with long-term development. We are one of the world's largest provider of sexual and reproductive healthcare in emergencies.
Women's need for reproductive health care is not suspended in crises. One-quarter of people affected by crises are women and girls aged 15-49. One in five women are likely to be pregnant and one and five of all deliveries will experience complications. In crisis settings there is also a heightened risk of early marriage, rape and sexual violence, unsafe abortions and unattended births. Transmission rates of STIs, including HIV, increase in emergencies.
During crises we work closely with our clinics on the ground to deliver life-saving care to people in need. Our mobile health clinics provide on the spot services such as STI and HIV diagnosis and treatment, short and long-acting contraception, and emergency obstetric and neonatal care.
Crisis Settings
Increasing numbers of people face crises or live in chronically insecure settings. Humanitarian crises expose weaknesses in health systems, with particularly serious consequences for women, young people and marginalised groups.
Inclusivity
IPPF focuses on meeting the needs of the underserved, in particular the needs of young people, women, and marginalized groups. These may include ethnic minorities, people on the move, refugees and stateless people as well as those of diverse sexual and gender identity, expression and sex characteristics, and persons living with disabilities.
Localisation
IPPF currently has membership in over 170 countries. Our approach is to build on existing local partner capacity and skills and extend these services to crisis-affected populations. As the situation normalises after a crisis, we aim to leave behind stronger local partners.
Where we respond
"Conflict and fragile settings now face a double crisis. First, there is the real effects and threat of COVID-19 on already stretched and under resourced settings."
Solomon Islands, Vanuatu, Fiji, and Tonga
IPPF's Humanitarian response to Tropical Cyclone Harold
Severe Tropical Cyclone Harold caused widespread destruction in the Solomon Islands, Vanuatu, Fiji, and Tonga during April 2020. Impacts on health services were caused by infrastructural damage to health facilities and contamination of water sources. In the mid to long-term, further impacts on sexual and reproductive health are likely, including increases in unintended pregnancy, sexually transmitted infections, maternal and infant health, and sexual and gender-based violence. IPPF's local Member Associations launched humanitarian responses to three of the countries affected – Fiji, Tonga and Vanuatu.
Read more about our response in Vanuatu here and check out our Fiji response in pictures here.
Mozambique
Life after Cyclone Idai
On the evening of 14 March 2019, Cyclone Idai made landfall in the city of Beira in central Mozambique. With wind speeds of 185 kilometers per hour, it was the largest cyclone on record to hit Africa. The impact was devastating, leading to the loss of life and extensive damage to infrastructure – not only in Mozambique, but in Malawi, Madagascar and Zimbabwe. The Associação Moçambicana para Desenvolvimento da Família (AMODEFA), IPPF's Member Association in Mozambique, responded in the most affected areas of Mozambique with mobile sexual and reproductive healthcare. AMODEFA were able to reach 7,561 people with sexual and reproductive health services throughout their response.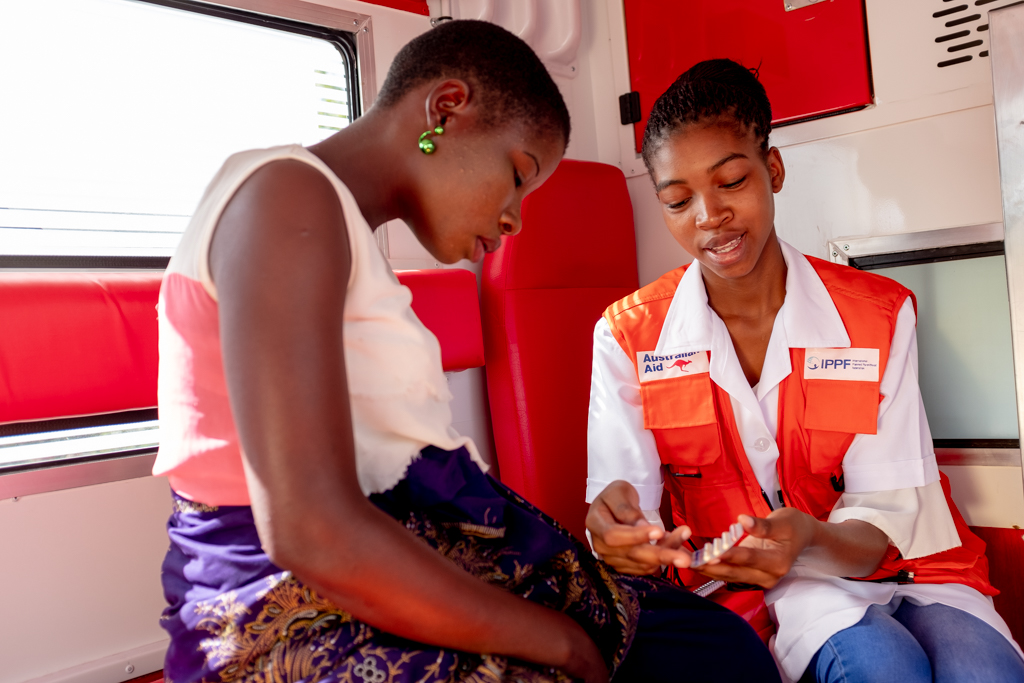 Palestine
The most vulnerable Palestinian communities are those living in refugee camps in the West Bank and the Gaza Strip.
There are currently nearly 1.2 million Palestinians living in 19 refugee camps throughout the West Bank and 700,000 living in eight camps in the Gaza Strip. The refugee camps are characterised by poverty, high population density, cramped living conditions and inadequate basic infrastructure such as roads and sewers. High quality rights-based sexual and reproductive health services, particularly those related to family planning, are often overlooked and unavailable in the camps, especially for young people.
Our Member Association in Palestine, PFPPA, has pioneered CSE in Palestine since 2012, reaching youth in and out of schools. PFPPA trains government teachers and counsellors in coordination with the Ministry of Education and has developed a CSE manual in Arabic tailored to the local context and approved by the MoE for use by schools. PFPPA is recognized for delivery in remote and marginalized areas including refugee camps in the West Bank and Gaza Strip.
Read more about Maha, a GBV survivor and PFPPA beneficiary.